In this "everyone is online" world, you can create your own Jordan shoes online for free. Everyone is given a chance to create a pair of custom Michael Jordan shoes at zero cost as long as you are connected to the internet. Hence, if you are hunger for a pair of custom Air Jordan or any shoes in Michael Jordan collections, you should connect to the internet and follow these steps to customize your own Jordan shoes now.
There is no limit to design your own Jordan shoes. The excitement surrounding custom Jordan shoes is palpable. You can design as much pair as you want because it is free. You will only need to pay if you decide to ask Nike to build the shoe for you according to your design. So, you are the designer of your own shoes, isn't it cool? There will be a list of things to do before you are able to place an order with Nike. Are you ready?
Step 1: Access to Nike official website at Nike.com. Select your language and country among US, Canada, UK, Australia, and others. Now click on the Jumpman logo on the top banner. You will be redirected to a page full with Michael Jordan-related merchandise such as Air Jordan shoes, clothing, accessories and gear.
Step 2: Click on the Custom button and then Customize with NIKEiD. For those who use iPhone, iPad, Android phones, or any Android tablet, you will have to tap on the + sign and then tap on the Customize with NIKEiD button to enter the page.
Step 3: In NIKEiD page, click on Jordan under collections. At this page, you will see a list of Jordan shoes. Every shoe can be customized as long as you are in love with them. Jordan 11, Jordan 5, Jordan Spizikie iD, Air Jordan Alpha, Jordan CP3, and many others are available in this page. Pick on that you want to customize to continue.
Step 4: This is the most exciting step because you will be able to put your on design on the shoe. Click on the sample shoe to start customizing the shoe. There will be a color panel on your left. From there, you can select your prefer color or pattern on each part of the shoe including base, strap, strap accent, lace, eyelets, lining, midsole, midsole topline, and outsole.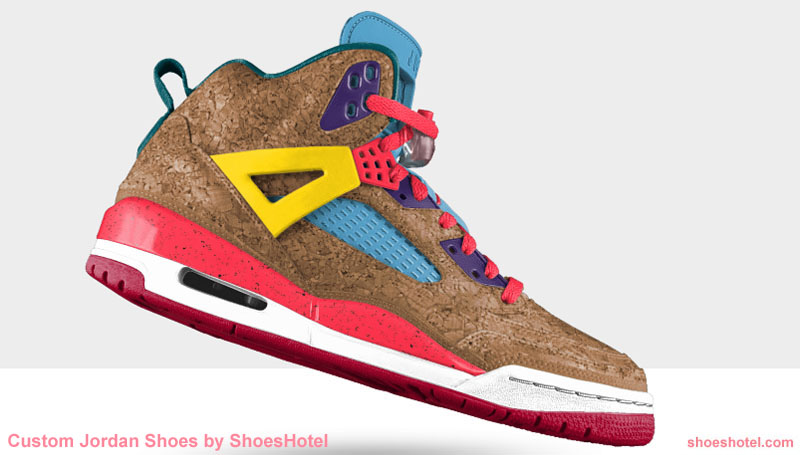 Custom Jordan Shoes by ShoesHotel.com
Step 5: Lastly, enter your personal id as well as heel id. Almost all Jordan shoes come with at least a personal id but not every Jordan shoe has an option to put heel id. Some shoes such as the Jordan Spizike iD give you an option to put your personal id as well as heel id.
If you love this article, you might love these too: Create your own Vans shoes online, Design your own Converse.
The holiday is coming, so why not take some time to create your Jordan shoes online? Nothing is better than a pair of custom Jordan shoes that has your name on it!